Our Variety
This is the default description for this page.
Custom
cucumbers
Bushy Cucumber
Enjoy the cool, satisfying crunch of cucumber in your salads! This well known older variety originated in Russia. Recommended for dacha gardens that surround Moscow because of its compact "bush" plants with 3-5 foot vines. Good production, for fresh eating or pickling.
green beans
Bountiful Beans
This new variety from Peter Henderson previously known as "Green Bush Bean #1" is a heavy producer of excellent stringless variety that usually has 6-7" pods.
lettuce
Oakleaf lettuce
This lettuce is resistant to hot weather and is long lasting and never bitter. It is excellent quality even in late summer. It is a loof leaf lettuce.
red salad bowl lettuce
This is a loose leaf lettuce that is upright and decorative. It is a wide leaf lettuce that is crisp and delicious.
Eggs
Free Range Pastured Eggs
chicken eggs
We have free range pasture raised chickens that are supplemented with non gmo grain. We raise heritage breeds and hatch most of our hens on the farm. We have a variety of breeds and colors of eggs. Chickens are not vegetarians but omnivores. They eat a variety of bugs along with grasses and weeds which is what makes their yolks that nice orange color. Our eggs are $4.50 per dozen and are available year round. However the supply runs lower during the shorter winter days because we choose not to light our birds. We believe in raising our flock natural and feel our hens deserve the natural break mother nature intended.
Duck eggs
We have free range pasture raised ducks that are supplemented with non gmo grain. We rai More..se two heritage breeds and hatch most of our ducks on the farm. We raise Anconas, Saxony, and Pekin. Ducks are not vegetarians but omnivores. They eat a variety of bugs along with grasses and weeds which is what makes their yolks that nice orange color. Our eggs are $7.00 per dozen and are available year round. However the supply runs lower during the shorter winter days because we choose not to light our birds. We believe in raising our flock natural and feel our ducks deserve the natural break mother nature intended.
Fruit
Cantaloupes
Hale's Best Melon
This melon is a reliable early melon with a firm salmon colored flesh. It has good flavor and drought tolerant. This melon delivers 100% of your daily vitamins A and C.
Herbs
Basil
Genovese Sweet
A classic Italian Basil. It is very productive, uniform, and slow to bolt.
Cilantro/Coriander
Cilantro
Useful for its fresh green foliage, its dried seeds (coriander) and its edible flowers.

An essential flavoring in Indian, Chinese, Southeast Asian, North African and Latin American cooking.
Dill
Dill Greensleeves
Very aromatic, this delicate baby herb offers a mildly sweet licorice-like flavor that combines anise, celery and parsley. Gently enhance dips, potato salad, soups, sauces, vegetables, egg dishes and breads with baby dill's refreshing licorice-like flavor. Having a natural affinity with seafood, salmon dishes are especially compatible.
Oregano
Oregano

Oregano is often used in tomato sauces, fried vegetables and grilled meat. Together with basil, it contributes much to the distinctive character of many Italian, Greek and Mexican dishes.

It has an aromatic, warm and slightly bitter taste. It is a good source of many nutrients. It is a source of iron, manganese and dietary fiber, as well as a good source of calcium, vitamin C, vitamin A (through its concentration pro-vitamin A carotenoidsl ike beta-carotene) and omega-3 fatty acids.

Parsley
Italian Flat Leaf Parsley
This herb enhance practically all European and Middle Eastern foods. Parsley leaves are the basis of green sauces from Italy and France to Germany and Argentina. Flat-leaf parsley has large, sturdy, serrated leaves with a pronounced flavor. It goes well with chicken, eggplant, eggs, fish, game, lentils, mushrooms, mussels, pasta, peas, potatoes, poultry, rice, seafood, tomatoes, zucchini, and many other foods. The leaves are most commonly used, however, the stalks are good for adding flavor to stocks.

Parsley is highly nutritious. In addition to its volatile oils and flavonoids, it's an excellent source of two vital nutrients that are also important for the prevention of many diseases: vitamin C and vitamin A.

Vegetables
Beet
Detroit Dark Red Beet
Rated highest for flavor in Seeds of Change Research Farm taste tests. Described as earthy and sweet. An outstanding keeper - buy some for storage and eat local in the winter!
Carrot
Scarlet Nantes
A classic among carrots, Scarlet Nantes has all of that old-time carrot flavor. Bright red-orange flesh with fine grain and almost no core. 6-7Ē roots have blunt tips and small to medium tops.
Corn
Stowell's Evergreen
Another old fashioned sweet corn. This is the oldest named variety of sweet corn in existence. Evergreen because it holds its fresh quality in the field for a long harvest. Developed by Nathan Stowell.
Lettuce
Rouge D'Hiver Romaine
An open-pollinated, heirloom variety, Rouge DíHiver originated in France in l885. This red romaine is unabashedly gorgeous, reliably hardy and perfect for baby greens. Rouge DíHiver produces large, robust heads of reddish-bronze, green-veined leaves which tolerate both heat and cold well. Even after being dressed, its showy red leaves stay crisp and their heft makes them ideal with weightier salad ingredients. Serve shiny leaves of Rouge DíHiver on a platter, arranging cooked, chilled beet slices, fennel slivers and toasted walnuts. Dress with a simple walnut oil vinaigrette and snips of chives. Simple, elegant and healthy!
Radish
French Breakfast
A root vegetable related to the turnip and horseradish family, with a crisp texture and a mild to delicately sweet flavor. The French Breakfast radish has an elongated shape that can grow to approximately three inches in length, displaying a bright red outer skin, which turns white at the root base. There are two main categories of radishes, either the spring or winter radishes, based on the time when they are harvested. Spring radishes are harvested early in their growing season resulting in a smaller radish. The winter radishes are harvested later in their growth and result in a larger round or more elongated shaped vegetable. This radish is considered to be a spring radish, but may be available throughout the year. It is a radish that is generally served raw to be used as hors d'oeuvres or a complement to salads. When selecting, choose radishes that are firm, crisp, and without blemishes. Radishes grown and harvested when temperatures remain hot develop an increased bitterness. Store without the leafy tops and place in the refrigerator, wrapped in plastic to keep fresh for several days. It is also known as a Flambo radish.
Spinach
Long Standing Bloomsdale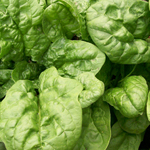 [Pre-1915.] Organic Seed. A fully-savoyed or crinkled variety with dark green leaves. Most heat-tolerant variety we offer. Very dependable, and the most full-flavored variety for salad use. Has withstood winter lows to 0°F.
Squash
Butternut
Our favorite fall vegetable! With its sweet, creamy, dark-orange flesh, butternut squash is one of the best and most versatile of all the fall squashes It can be roasted, toasted, puréed for soups, or mashed and used in casseroles, breads, and muffins.
Peter Pan
Light green scallop.
Medium-sized, open bush makes for easy harvest of the attractive, pale green fruits. Nutty flavor. Mix with other colors for an attractive pack. Early and high yielding.
Summer Squash
Dark Green Zucchini
An early vigorous bush zucchini with straight, smooth, 6-8" dark-green mottled fruits. Zucchinis are an excellent source of vitamin C. Dark green zucchini also have some beta carotene and all types provide small quantities of minerals. Skin colours range from almost black, dark green, pale green, pale green with grey, and yellow. The darker the squash, the more the nutrients.
Zephyr
A distinctive, slender fruit, yellow with faint white stripes and light green blossom ends. These have an unusually delicious nutty taste and firm texture.
Winter Squash
Acorn Squash
Acorn squash is a dark-green, deeply ribbed fruits that turn orange when stored. Moderately sweet, dry, fine-flavored squash.
Acorn squash is most commonly baked, but can also be microwaved, sauteed, and steamed. This squash is not as rich in beta-carotene as other winter squashes, but is a good source of dietary fiber and potassium, as well as smaller amounts of vitamins C and B, magnesium, and manganese.